Superman: The Wedding Album #1
RRP Edition
DC Comics, December 1996.


Rare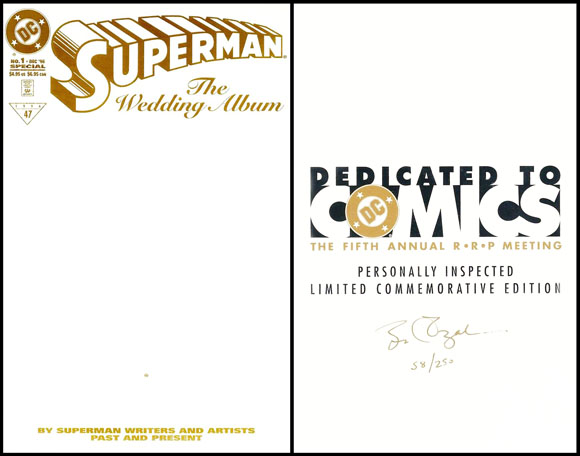 This is a genuine DC RRP (Retailer Representative Program a.k.a Retailer Roundtable Program) comic from DC's 5th annual RRP meeting in 1996. These meetings were for 70-80 select and diverse retailers (from small one-shop dealers to large retailers).

The comic itself is priced at $4.95, which is unusual as RRPs are normally marked as "not for sale", has a embossed Superman logo on the cover and the logo and title are in gold. Each comic is numbered on the back and signed. Interestingly each states it has been "personally inspected" so begs the questions: were any rejected by the inspection and, if so, what happened to them?
In January 2015, CGC had recorded only 7 gradings of these, all were high grades (9.4 minumum) with a single 9.9 Mint- copy.
As well as the RRP variant, there's a "Collector's Edition" (with silver/grey title and logo) and the standard edition below: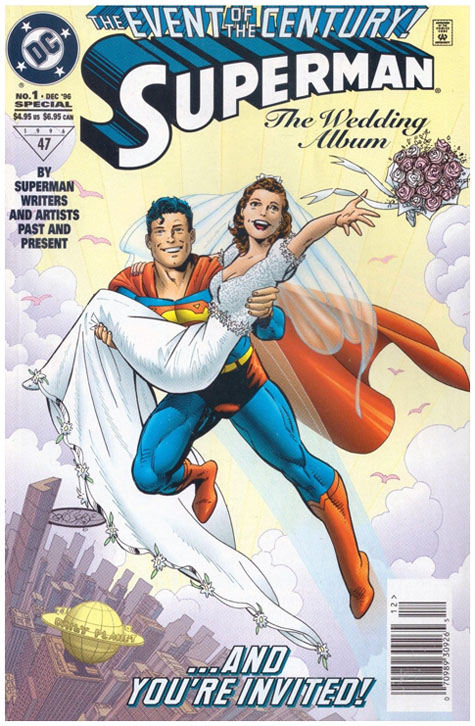 Related comics:
Superman: The Wedding Album #1 RRP Edition (this comic)