Kamala Khan, the new Ms. Marvel:
Rare "First Appearances"
Marvel Comics, September 2013 & February 2014:
Captain Marvel
#14 Conner 1:30
Cover Variant

Rare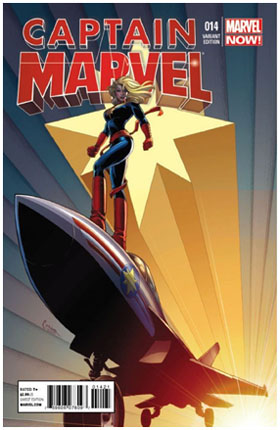 Captain Marvel
#17 2nd print
Ms. Marvel Cover

Low Dist.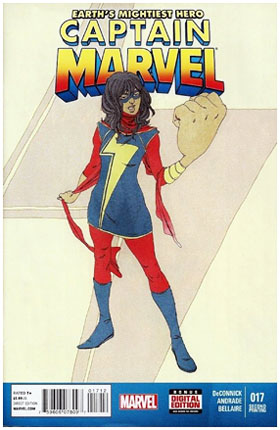 &nbsp
The first "appearance" of Kamala Khan and her alter ego the new Ms Marvel is not quite as straight forward as say Wolverine, who first appeared (in the narrative and art) in cameo on the last page of Incredible Hulk #180 and then had his first "full" appearance in the next issue #181 (where he was also illustrated on the cover).
First of all Marvel quite deliberately placed an anonymous Kamala Khan, into a single panel in Captain Marvel #14, observing the actions of Captain Marvel: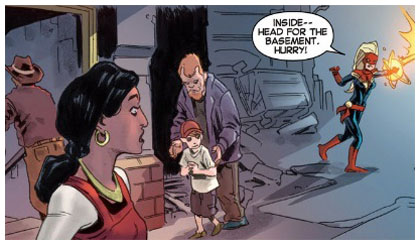 After this, a second cameo for Khan appeared in the first prints (standard cover and 1:20 variant cover) of Captain Marvel #17 showing various teaser elements such as a Pakistani flag, the text "...and how she inspired..." in reference to Khan's idolization of Captain Marvel and the key element is Khan ripping her top by expanding her arm muscles in a first glimpse of her powers.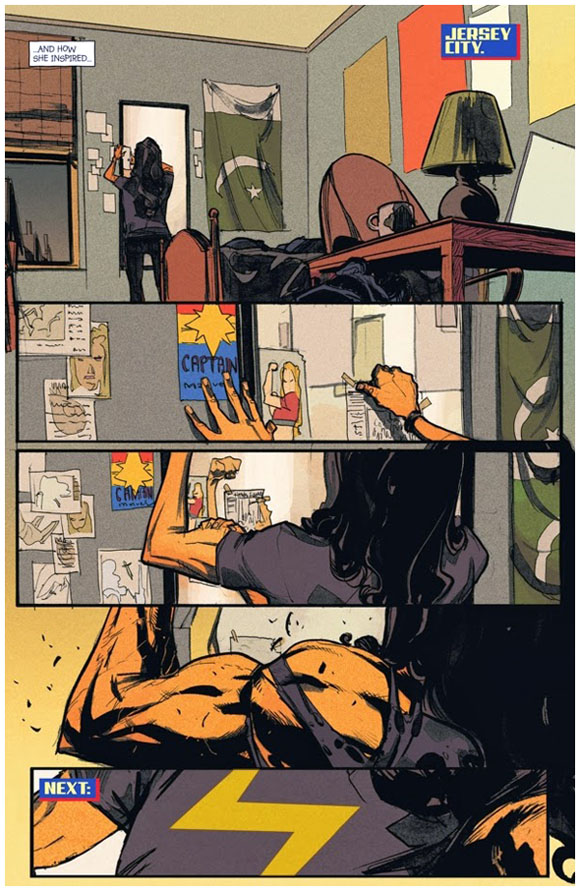 Then came a twist, the second print of Captain Marvel #17 reprinted the second cameo appearance of Khan but Marvel curiously put the first published art for the new Ms Marvel on the cover (see the picture at the top of this page) even though she does not appear in costume inside the comic.
At this point the new Ms Marvel had yet to appear in narrative and that was left for All New Marvel Now! Point One #1 to feature the "1st full appearance of the new Ms. Marvel (Kamala Khan)" (note that the new Ms. Marvel also featured on the standard cover of the issue, below, but not on the rarer 1:75 variant).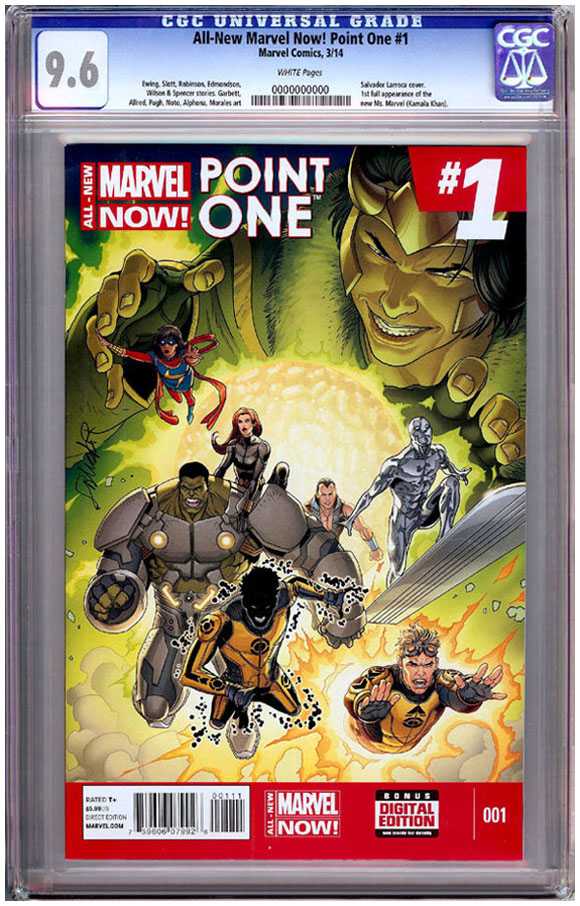 All this (two cameo appearances, a second print featuring the first published art for Ms. Marvel and then the first full appearance) seems to have given speculators and collectors a lot to debate. Certainly the incentive variant for Captain Marvel #14 and the 2nd print for #17 seem to be the most expensive to obtain at present but from a narrative perspective the Captain Marvel #17 first prints seem to be have the more interesting cameo appearance and All New Marvel Now! Point One #1 is certainly the first full appearance of both Khan and her alter ego.