Archer & Armstrong One Percent #1 1:30 Gold Variant
Diamond Code: SEP141702 ; ISBN/UPC: 8-58992-00306-2-70041

In Shops: 2014-11-12 ; 32 Pages ; SRP: $3.99

Valiant, Published Date: November 2014.

Rare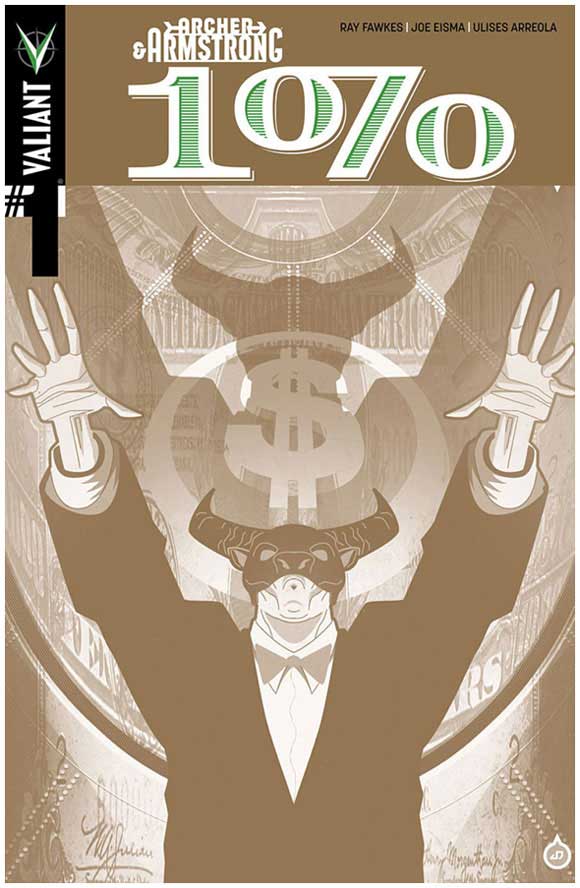 Remember Occupy Wall Street? We don't, but we know you lost and the villainous One Percent won!
Now, in the wake of their greatest victory a new vicious brand of One Percent rises to the top of the class, and this time there will be no one to BAIL OUT their enemies. Don't miss this wealth of elitist entertainment introducing a brand new villain into the Archer and Armstrong universe! (That will be $3.99, please.)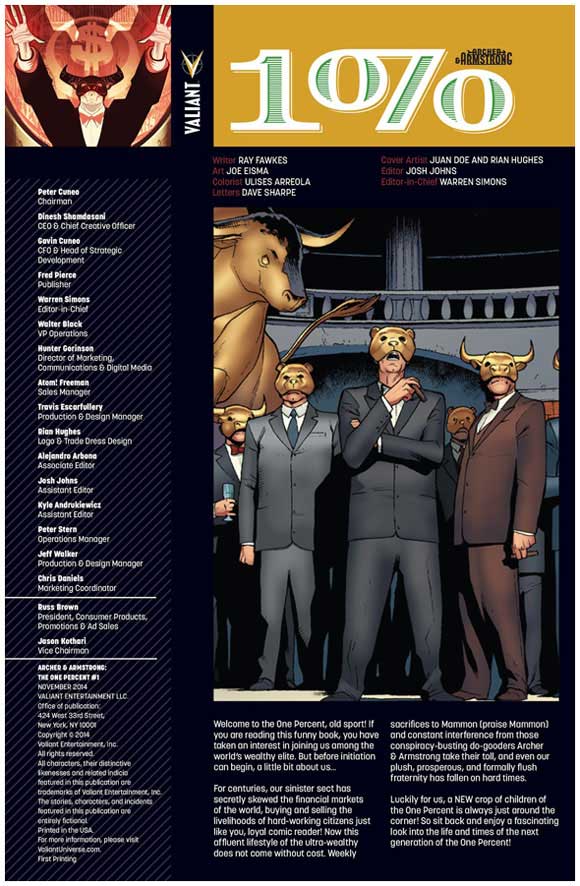 This variant was a 1:30 retailer incentive variant, which used the same cover art as the regular edition, by Juan Doe. The issue was written by Ray Fawkes with interior art by Joe Eisma.

All four covers distributed by Diamond are listed below (Diamond code / barcode suffix in brackets):
Juan Doe regular cover (SEP141699 / 0011)
Rian Hughes Bear Mask cover (SEP141700 / 0121)
Rian Hughes Bull Mask cover (SEP141701 / 0131)
Juan Doe 1:30 "Way Too Gold" variant (SEP141702 / 00141)
Below is the regular cover and the two (bear and bull) mask covers: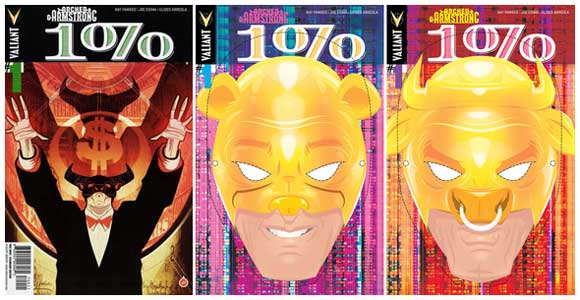 In late September 2018, CGC had seven recorded gradings for the "Gold Edition" with six at the top grade of 9.8 and one at 9.4 (none were on Signature Series at that time).
The Juan Doe "Gold-tinted" variant is quite hard to find (the overall Diamond distribution world-wide for all four covers was under 7,500 and this was a 1:30) hence prices could vary considerably: a CGC or CBCS 9.8 (near mint / mint) copy will likely set you back more than $500.