Black Panther #1 Alex Ross 1:75 Cover Variant
Diamond Code: FEB160737 ; ISBN/UPC: 7-59606-08421-0-00181

In Shops: 2016-04-06 ; SRP: $4.99 ; 40 Pages

Marvel Comics, published date: June 2016.

Low Dist.
This is the 1 in 75 Alex Ross Retailer Incentive Cover of Black Panther #1 from the 2016 series.
The 2016 series kicked off with a huge number of variants with 11 first prints (including the Ross variant) available via Diamond; the other 10 editions are shown below: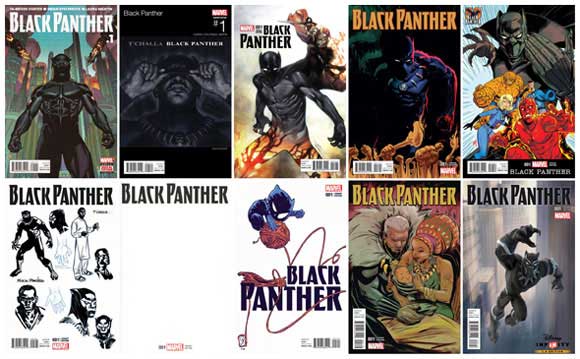 From left to right, top to bottom they are (barcode suffix and diamond code shown in bold):
00111 / FEB160736: Regular Cover
00121 / FEB160739: Stelfreeze Hip-Hop Variant
00131 / FEB160738: 1:50 Coipel Variant
00141 / FEB160743: 1:25 Sook Variant
00151 / FEB160742: 1:25 50th Anniversary Variant
00161 / FEB160741: 1:20 Design Variant
00171 / FEB160746: Blank Variant
00191 / FEB160744: Skottie Young Baby Variant
00116 / FEB160740: Greene Connecting Variant
00118 / FEB160745: 1:10 Disney Infinity 3.0 Variant
As well as the above the issue went into a second and then a third print (both using the regular cover art) and a number of comic shop and other variants were also available and shown below: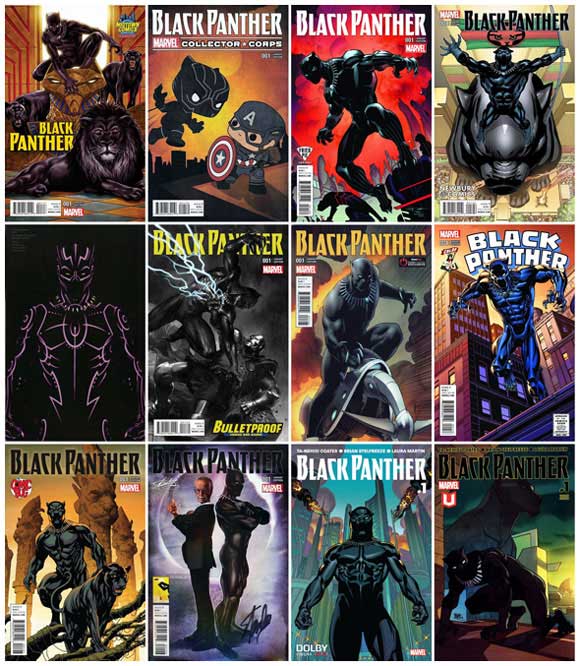 From left to right, top to bottom they are (barcode suffix shown in bold):
00117: Midtown Exclusive Variant
00119: Marvel Collector Corps Variant
00120: Fried Pie Variant
00122: Newbury Comics Variant
00123: JTC Negative Space Variant
00124: Bulletproof Variant
00125: Gamestop Variant
00126: CBLDF Variant
00127: Comic Bug Variant
00128: Stan Lee Collectibles MEFCC Variant
No Barcode: AMC Dolby Theater Opening Night 2018 Variant
No Barcode: Marvel Unlimited Variant (available with annual membership in summer/fall of 2016)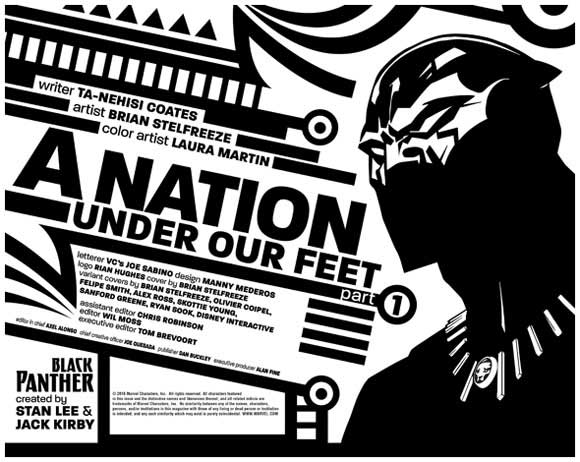 Written by MacArthur Genius and National Book Award winner TA-NEHISI COATES (Between the World and Me) and illustrated by living legend BRIAN STELFREEZE, "A Nation Under Our Feet" is a story about dramatic upheaval in Wakanda and the Black Panther's struggle to do right by his people as their ruler. The indomitable will of Wakanda -- the famed African nation known for its vast wealth, advanced technology and warrior traditions -- has long been reflected in the will of its monarchs, the Black Panthers. But now the current Black Panther, T'Challa, finds that will tested by a superhuman terrorist group called The People that has sparked a violent uprising among the citizens of Wakanda. T'Challa knows the country must change to survive -- the question is, will the Black Panther survive the change?
In mid March 2018, CGC had 90 gradings of the "Ross Variant Cover" recorded with 55 (around 61%) in the highest grade of 9.8 (near mint / mint). CGC also note on their label that this is the "1st comic work of Ta-Nehisi Coates" who was the writer for issue #1.
There are usually quite a few copies of the Ross variant available for sale on comic shop websites and also auction sites such as ebay (realized prices were around the $100 mark for a near mint raw copy in March 2018).