Miracleman #24
Eclipse Comics, August 1993.

Common
Please note that a number of collectors, including ourselves, have used a print run source for Miracleman that was misleading (many thanks for the feedback on this). The print run data for Miracleman has been revised and is now significantly higher than originally thought (but it remains as estimates only as no truly accurate print data exists for the series other than for #1 and maybe #2). Although the comic does not really qualify for the Rare section now (print run well over 7,000), it will be left here to preserve any external links to this page.
The print runs on Miracleman started at just over 135,000 for issue #1 but, by issue #9, that had halved. Miracleman #15 is the most famous of the issues featuring the death of Kid Miracleman but also the lowest print run of the Moore run, however, issue #24 has the lowest print run of all the regular Miracleman comics in the series: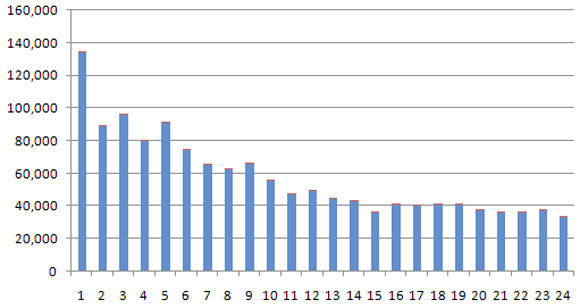 Graph shows the decline of print runs of Miracleman from the peak of 135,000 for issue #1.
Sadly Eclipse Comics collapsed, which saw Miracleman #24 being the last issue to see print (#25 was actually written and inked but never saw the light of day). Over the years that followed, a long and complex dispute took place over the ownership rights of the character with Todd McFarlane, Neil Gaiman and others claiming some form of full or partial ownership of the character.
In 2009 Marvel announced it had purchased the rights to Marvelman and, in 2014, began reprinting the series. Once the Warrior and Eclipse material is reprinted, the intention is for Neil Gaiman to complete the Silver Age and Dark Age narratives.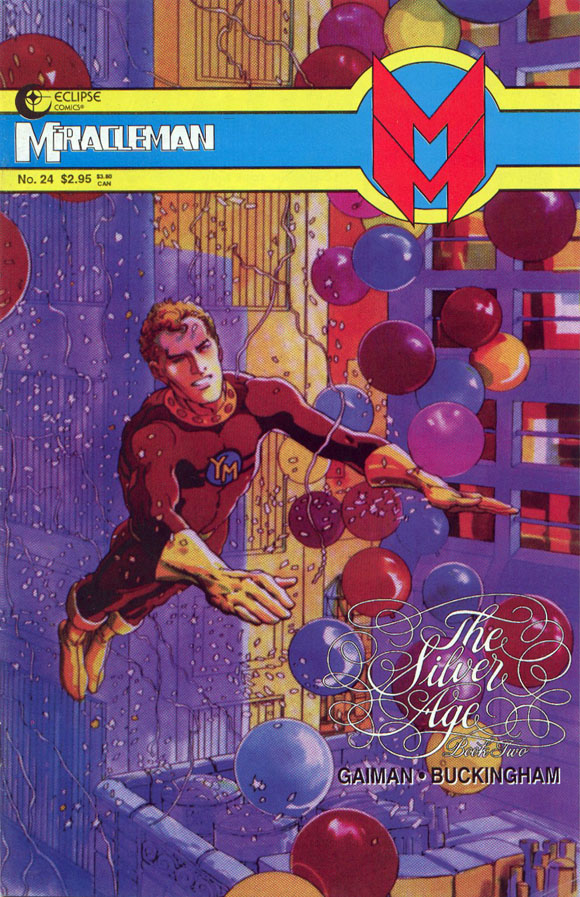 This issue seems to be the second highest (2nd to #15) priced comic from the Eclipse series (excluding variants such as the #1 signed copies and the #1 3D in 2D) and sells well on auction sites in high grade.